Exploring electronic afterlives / dreaming future techno-cultures

How can we build a technological culture that connects to people's lifeworlds, beyond globalized standards of design, operation and interaction? What technological strategies and tactics will enable us to leave behind nihilistic and unsustainable ideologies of endless growth and 'progress'? Disobedient Devices is a collaborative art and research project that explores the afterlives of consumer technologies to envisage new ways to shape and experience digital culture.
Initiated by Dani Ploeger in 2013, the project has brought together artists, humanities researchers, scientists and technicians from eight countries across Europe, Africa and Asia. Drawing from digital performance arts, cultural studies of technology, environmentalism and post-colonial criticism, participants have done field research and collaborative thinking and making during workshops in Nigeria, Kenya, the UK, and Hong Kong. Together with local collaborators and experts-by-experience they have explored dump sites, second hand markets, repair shops, wholesale districts and shopping malls. Through these activities, four – at times overlapping – areas have been investigated:
Wastes: What happens to consumer devices and their promises after they have been designated as waste by their first time users?
Disposables: How do the practical, symbolic and ideological aspects of everyday technologies change once they become available as cheap, throw-away commodities?
Repairs: How can electronics repair practices inform empowering and sustainable attitudes to everyday consumer technology use?
Appropriations: How can obsolete devices be approprated in the context of memories, stories and myths to create empowering local and regional techno-narratives?
Collaborators have included Jelili Atiku (Nigeria), Janet Chan (Hong Kong), Catherine Chapman (UK), Shu-Lea Cheang (US, Taiwan), Brigitte Dragsted-Mutengwa (Denmark), Joost Fontein (South-Africa), Anne Kirori (Kenya), Neil Maycroft (UK), Greenman Muleh Mbillo (Kenya), Kehinde Olubanjo (Nigeria), Joan Otieno (Kenya), Irini Papadimitriou (UK), Dani Ploeger (UK, Netherlands), Sylvain Racaud (France), Jean-Michel Rousset (France, Kenya), Christopher Williams (UK).
Disobedient Devices has been hosted by The Royal Central School of Speech and Drama, University of London, in collaboration with institutions around the world including the British Institute in Eastern Africa, University of Lagos, Hong Kong University, Warembo Wasanii Art Studio Nairobi, Watermans Art Centre London, Alliance Francaise Nairobi and V&A Museum London. The research activities that form part of Disobedient Devices have been supported by the Arts and Humanities Research Council, Arts Council England, the Global Challenges Research Fund and the Newton Fund.
This website is a growing repository of process documents, publications and artworks that have emerged from the project.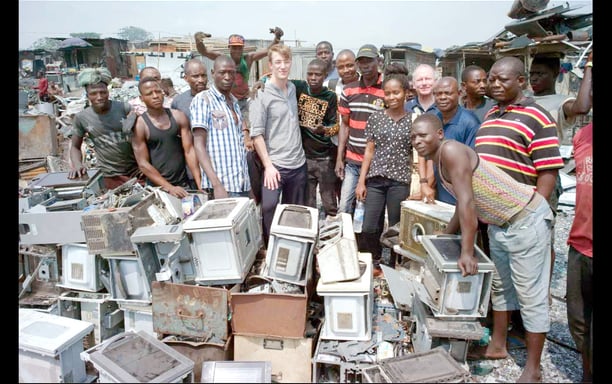 Alaba Market e-waste dump site, Lagos, Nigeria, 2015. Photo by Peter Dammann